Art of Living
Aertson Midtown is more than just a place to call home; it's an artistic oasis featuring internationally renown artists and unique pieces specifically curated for our community. Here are some examples of what you'd expect to see when touring our space.

Jong-Rye Cha
JongRye Cha lets her chosen material of wood, guide her practice as it takes shape through her hands. Working with it as if it were clay, she meticulously layers and sands hundreds of delicate wood pieces into contours and shapes that seemingly have no beginning or end. The resulting monumental works have a fluidity and energy that symbolize JongRye Cha's philosophy of the landscape, our individual lives and the world around us. Presenting her sculptures as something that is living and moving, rather than as an object of complete reality, her work calls on the ideas of creation, infinity and eternity. JongRye Cha's practice is a mastery of precision, detail and craftsmanship. It is her ability to 'talk' to the wood to challenge and manipulate it with and against its natural grain which allows it to gently receive her movements and thus transform its innate characteristics into eased tactile sculptures. Her rendering of the wood, the play between layers and tension, and the dance of light and shadow across the surfaces, combine to create a powerful expression of flowing energy and life.
JongRye Cha was born in 1968 in Daejoen, Korea, a historic province now known as the Silicon Valley of Korea, but whose name translates to a 'large field' harking back to its simple organic roots. These roots in the simplicity of nature are the basis of the philosophy behind her works and use of wood as her chosen medium. Cha completed her undergraduate degree in Sculpture at Ewha Women's University in 1992 in Seoul and continued on to receive her MFA in 1996. She has had solo exhibitions at the Nampo Museum of Art in Goheung, at the Vermont Studio Center, and the Sungkok Art Museum in Seoul. She has been included in numerous group exhibitions including The Berkshire Museum, The In and Out Museum in Seoul, The Naro Museum, and the Nampo Art Museum. Her work is represented in the permanent collections of the Sungkok Art Museum, The Plaza Hotel, Seoul, Seoul, Namp Art Museum, Gohung, and the JW Marriott Hotel, China, and others. She currently lives and works in Korea.



Duncan Johnson
Duncan Johnson has been in conversation with wood since he was a small child. From his earliest obsession with gluing sticks of wood together to today's mastery of craft and signature aesthetic, the inherent beauty and qualities of wood has been Johnson's medium of expression. Working with reclaimed wood that he finds in his home state of Vermont, Johnson has been known for arresting sculptural works puzzling countless bits of wood into elegant organic forms. In the last few years Johnson has made a departure from the 3-dimensional to the 2-dimensional in the form of assembled paintings. Using found wood with the original color maintained, Johnson precisely mills strips of wood and assembles them into enigmatic, loosely geometric compositions. The long thin strips of wood placed side by side create stripes that slide into and out of each other organically and with a sense of rushing vertical movement. The entire field of pattern and color is overlaid with a grid of tiny silver brads that have the effect of stitching or netting. The contrast of the precisely applied delicate silver webbing over the warmth and richness of the wood below emphasizes the ambiguity of scale and weight, opening the door to a range of interpretations.
Duncan Johnson earned a BFA at Pratt Institute in 1987 and lives and works in Vermont. He was awarded a Pollack Krasner Foundation Artist Grant in 2010, an Academy of Arts and Letters award in 2009 and an Individual Artist Grant from the Vermont Arts Council, also in 2009. Johnson has exhibited in museums and art centers including the Bronx Museum of the Arts, Bronx, NY, Jacksonville Museum of Contemporary Art, Jacksonville FL, Brattleboro Museum of Art, Brattleboro, VT, Sam Houston Memorial Museum, Huntsville, TX, Museum of Art University of NH, Durham NH, Lichtenstein Center for the Arts, Pittsfield MA, Rose- wood Art Center, Kettring, OH, and Pelham Arts Center, Pelham NY, among others.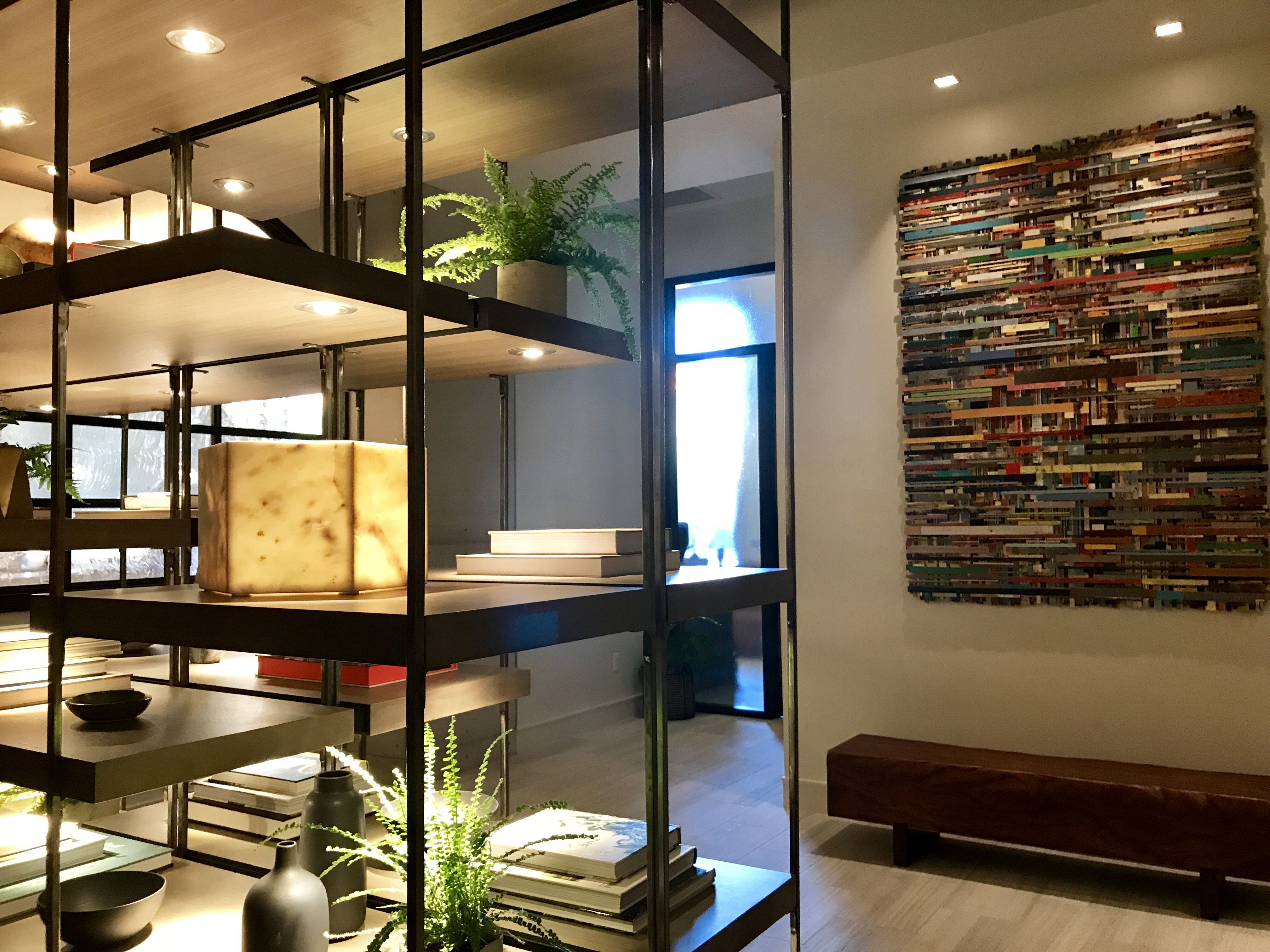 Jaehyo Lee
JaeHyo Lee has been rethinking and re-envisioning use of quotidian materials for several decades. Rather than dismantling each sculptural component and creating a hybrid aesthetic, Lee's works emphasize the material's essential nature. The trajectory of his current work reveals his refined approach to nature - muse to his ideological and spatial concerns. Lee's signature sculpture, Slanted Bench, is currently on view at the Museum of Fine Arts in Boston as part of CRAFTED: Objects in Flux (through Jan. 15, 2016). Here, we are featuring a functional art piece, beautifully curved and softly rounded – it is a piece that invites us to experience its shape, its texture. Year upon year, Lee continues to bring us vanguard ways of envisioning the hard material of wood in inventive and seductive forms. Often minimalistic, Lee's typically monumental work centers around circular motifs, a re-envisioning of materials, and organic shapes, duly highlighted in the exhibited SLANTED BENCH. With varied logs crosscut and planned to expose oval patterns, which emerge as elongated mirror images reminiscent of dividing cells, viewers are asked to look into the work, beyond the physical surface, to discover that pattern can also serve as a structure. --(Emily Zilber, CRAFTED: Objects in Flux, catalog, Museum of Fine Arts, Boston, MA, August – January 2016)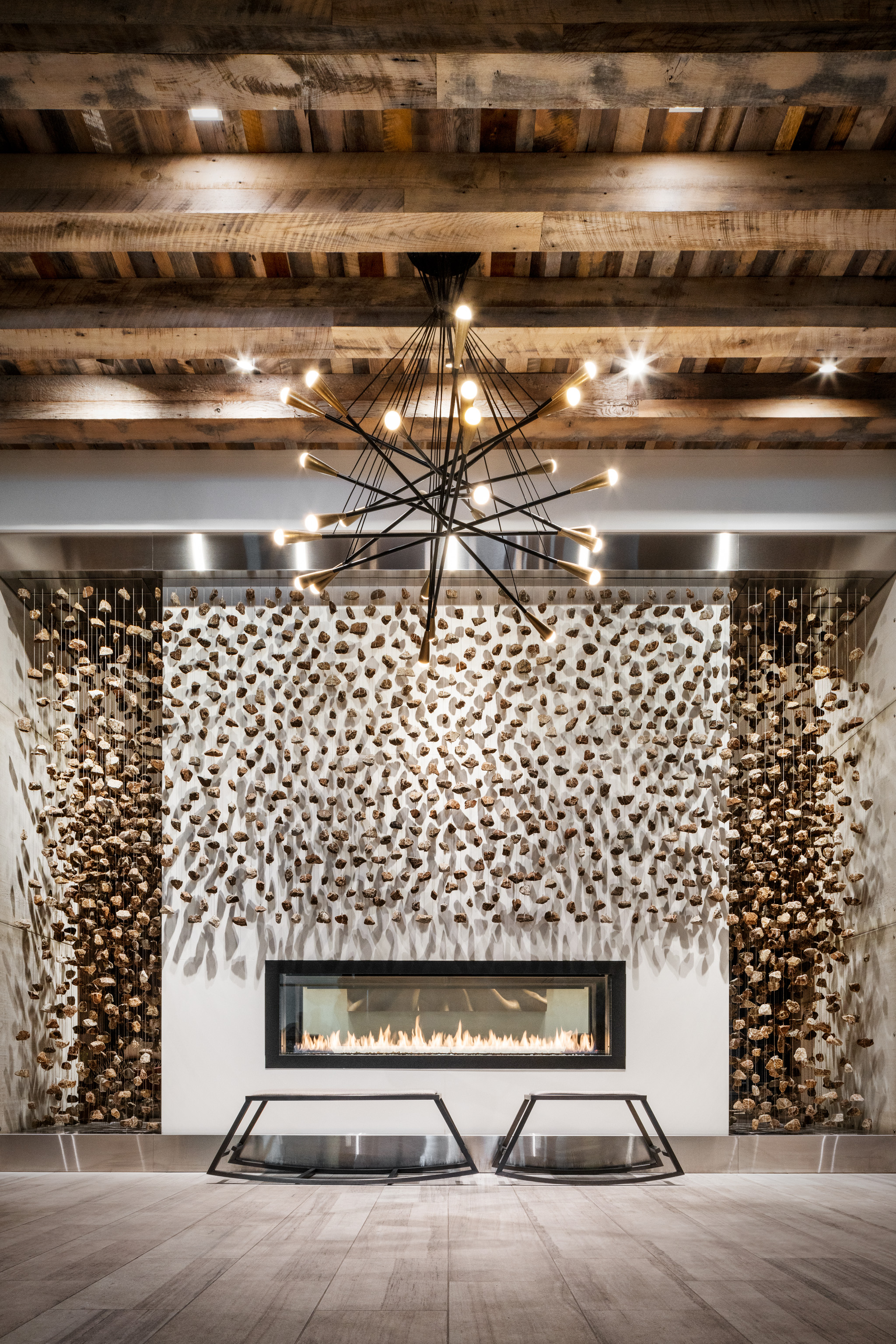 Anne Lindberg
Neurologists have determined that the old brain holds the seat of our most primal understandings of the world. Goodwill, security, fear, anxiety, self-protection, gravity, sexuality, and compulsive behaviors generate from this lower cerebral core. My sculpture and drawings inhabit a non-verbal place resonant with such primal human conditions. Systemic and nonrepresentational, these works are subtle, rhythmic, abstract, and immersive. I find beauty and disturbance through shifts in tool, layering and material to create passages of tone, density, speed, path and frequency within a system. In recent roomsized installations, I discovered an optical and spatial phenomenon that excites me as the work spans the outer reaches of our peripheral vision. The work references physiological systems – such as heartbeat, respiration, neural paths, equilibrium - and psychological states. I've come to understand my work as a kind of self-portraiture. Within the quiet reserve and formal abstraction is a strong impulse to speak from a deep place within myself about that is private, vulnerable, fragile, and perceptive to the human condition. My work is a mirror of how I experience the world, and as I negotiate physicality, optics and ideas through drawing languages, my voice withholds, blurs, teases and veils. I frequently return to subtle distinctions between drawing as noun and verb as a long held focus in my studio practice. This blurred distinction drives my fascination with an expanded definition of drawing languages and the resurgence of drawing in contemporary art. My collective body of work is an iteration of this language. -- Anne Lindberg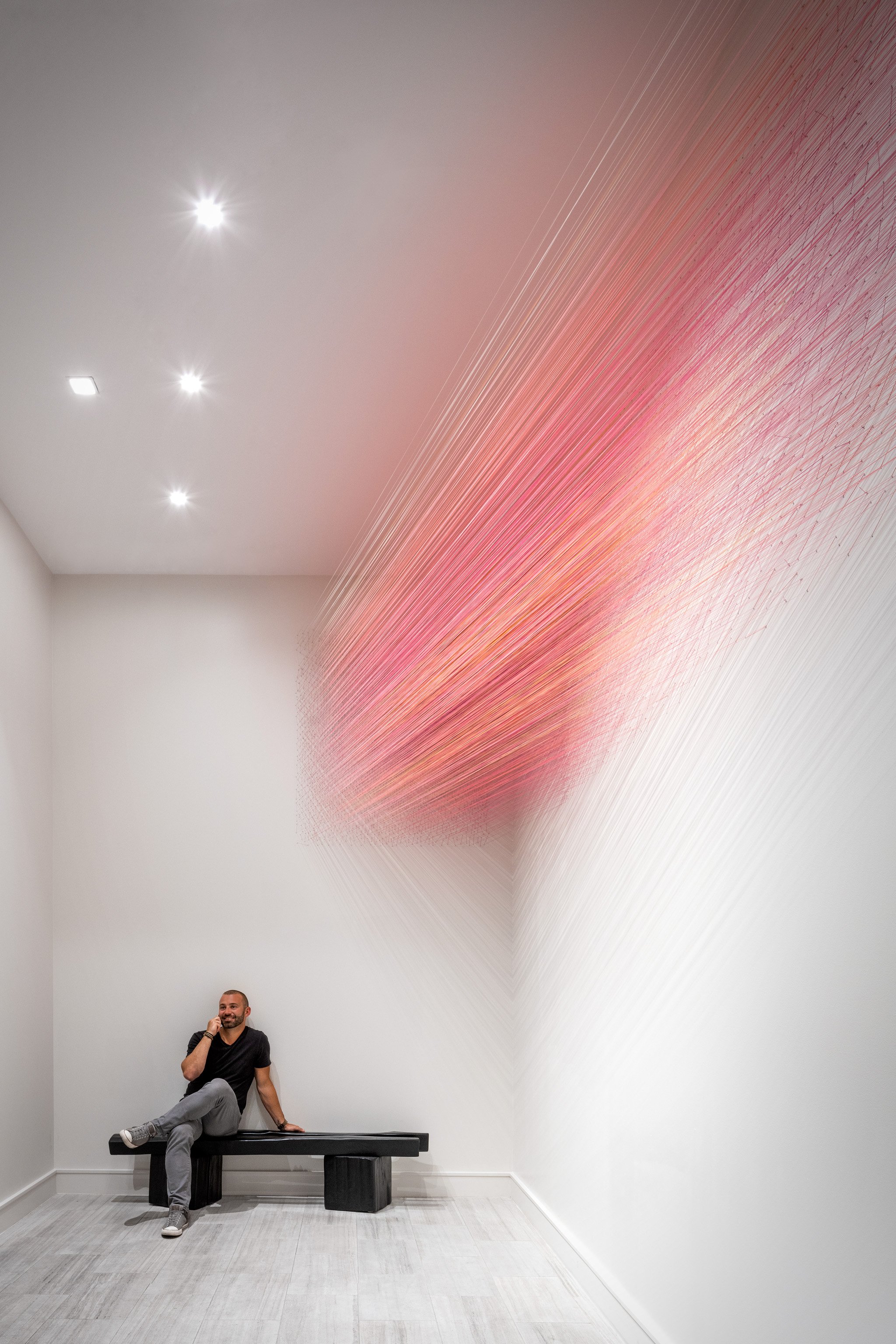 Oliver Marsden
Oliver Marsden is an artist who seems to make sculpture of paintings or sculptural paintings. – Damien Hirst, Artist Oliver Marsden's paintings play with color theory and harmonic resonance of color to create dynamic optical illusions. The paintings appear improbably kinetic, as if they are vibrating, expanding and contracting on and off the canvas's surface. Marsden varies the saturation and shade of a singular color to create his kaleidoscopic bull's-eye compositions. The subtle tonal gradations hover, as they suggest depth, and play with the viewer's eye, creating a mesmerizing, pulsating work. Marsden first developed his circular motif, the Harmonics series, in 2005, in response to his study of water. The oil paintings radiate out from a central point much like water responds to an object penetrating its surface. He takes his titles literally; the paintings are harmonics, radiating discs. Oliver Marsden has been 'freeing up' – learning from paint – enjoying its liquid possibilities. His latest body of work shows evidence of a further development in his use of paintings as a way of focusing thought. He is demanding more of the medium, himself and the audience. – Colin Glen, Critic Marsden graduated from Edinburgh College of Art in 1997 and then worked as an assistant in Damien Hirst's studio. At the age of 25, he had his first solo exhibition in London at the prestigious Blue Gallery in 1998. Since then he has regularly exhibited throughout the United Kingdom, along with exhibitions in Berlin, New York, Mexico City and most recently Koumi, Japan, where he completed a yearlong residency at the Horiuchi Studio. Following a series of public art commissions in London, the artist was awarded the Prince Trust Award in 2000. Marsden's work is included in the collections of the Kresge Art Museum, (MI), the Horiuchi Collection, (Japan), the Murderme Collection, (London), the Weisman Art Foundation, (Los Angeles), Damien Hirst private collection, among others.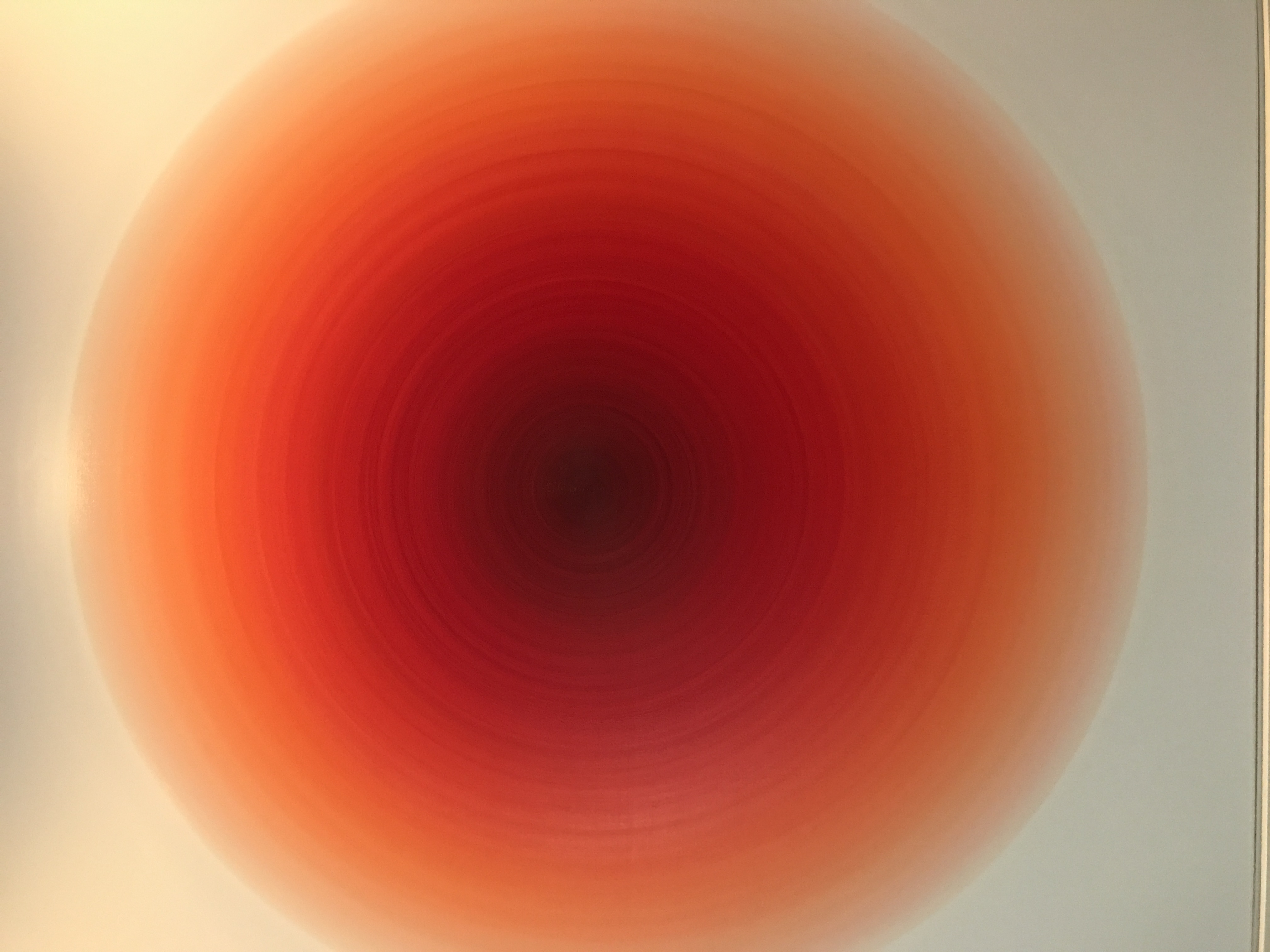 Ara Peterson
Ara Peterson fuses technology and craft to make his abstract geometric artworks. Working across mediums—paintings, prints, sculpture, installation, video—Peterson creates optical illusions with hyper-saturated, and polychromatic layering and a physicality that points to his methodical process. For his 2009 Ratio 3 show Turns into Stone, Peterson made his wall reliefs by feeding complex wave formations into a computer that laser-cuts the slats that he then assembles into eye-boggling designs. Also included in this exhibition were a series of backgammon boards that the artist created with his father. These works demonstrate the same colorful geometry for which he is known, however the patterns are rooted in ceramics and memories from his family history. Peterson's work suggests that abstract geometry can be personal and intimate. Ara Peterson lives and works in Providence, RI. He graduated with a degree in Film/Video/Animation from the Rhode Island School of Design in 1997. Peterson was one of the founding members of the ground-breaking Providence-based collective Forcefield, who were included in the 2002 Whitney Biennial. Peterson work has been included in exhibitions at MOCA Geffen Contemporary, Los Angeles; Garage Center for Contemporary Culture, Moscow; Bergen Kunsthalle, Norway; Macro Museum, Rome; Deitch Projects, New York; P.S. 1 MOMA, New York; Yerba Buena Center for the Arts, San Francisco, among many others. Solo exhibitions include: Ratio 3, San Francisco; Loyal Gallery, Malmö and Daum Museum of Contemporary Art, Sedalia, MO. Peterson's work is in numerous public art collections including: Museum of Modern Art, New York; New Museum of Contemporary Art, New York; The Deste Foundation Centre for Contemporary Art, Athens; The Progressive Art Collection, Cleveland; Berkeley Museum of Art and Pacific Film Archive, Berkeley; and Albright-Knox, Buffalo.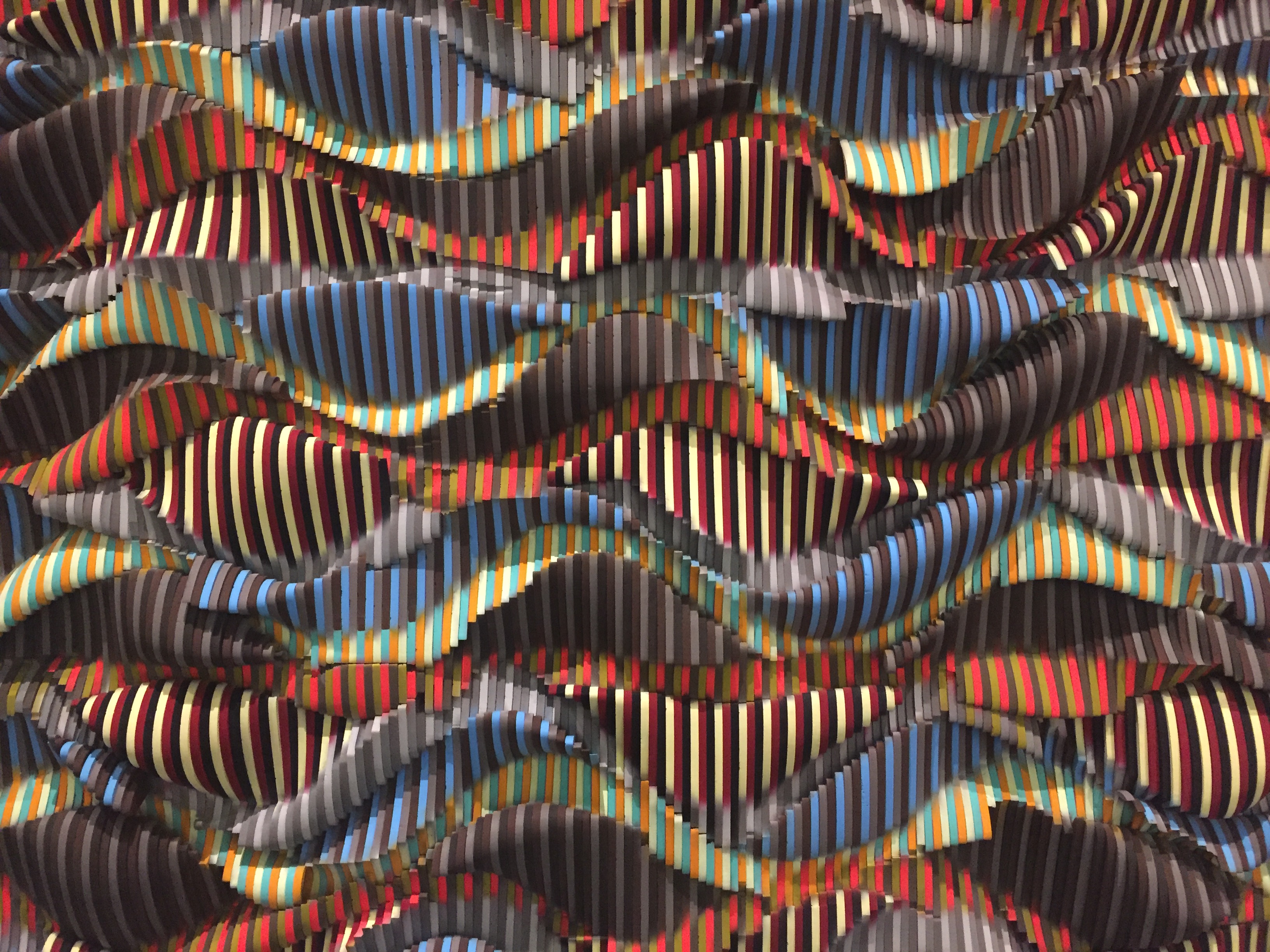 Aertson Midtown and Buckingham Companies worked with Cynthia-Reeves on curating and acquiring these amazing pieces for our collection.